The Dinner under the sky will be set on Helsinki Day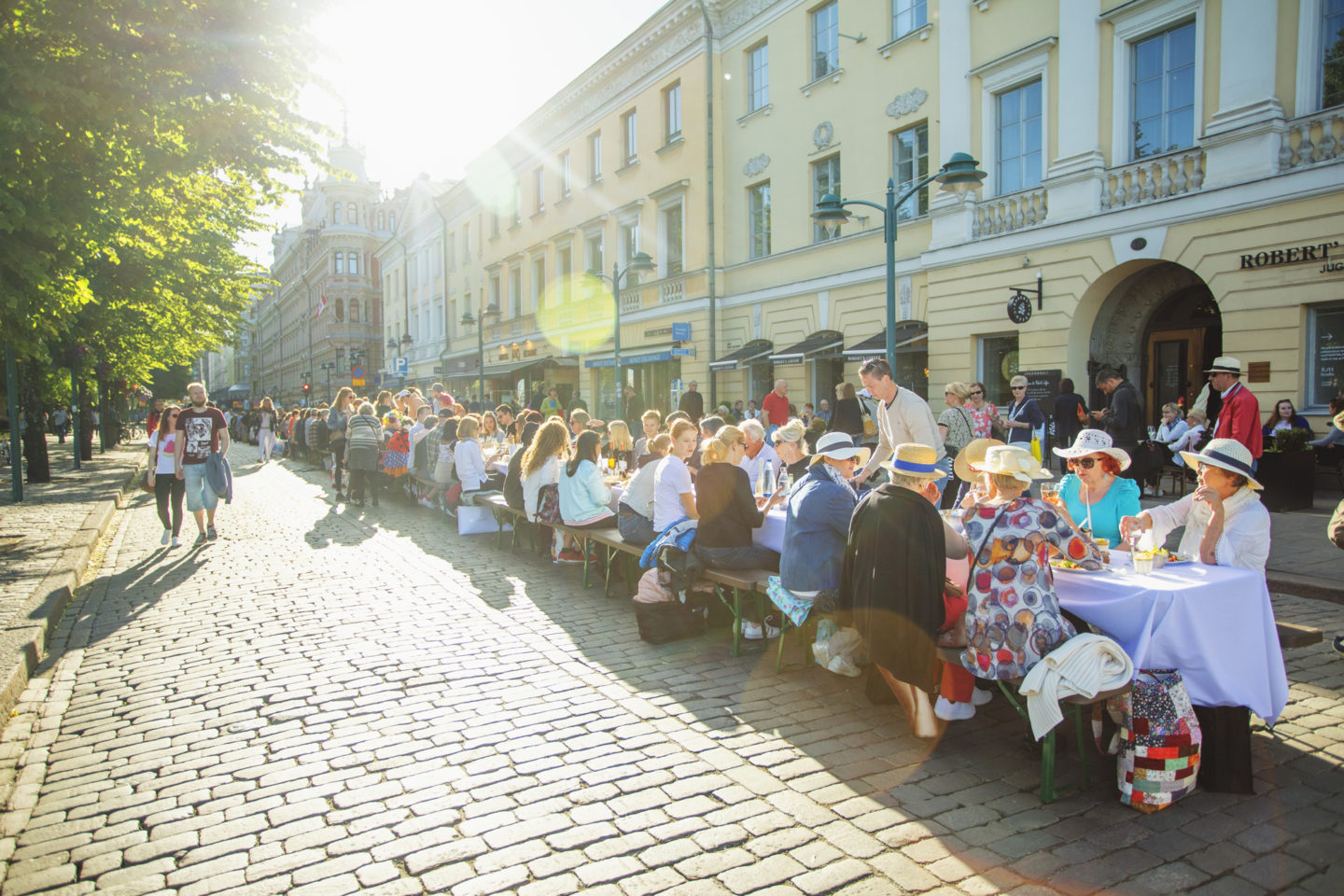 Dinner under the sky invites people to get together around communal tables in the streets of summer Helsinki. First held on Helsinki Day ten years ago, Dinner under the sky will again take place at Esplanadi on 12 June. A more exclusive dinner venue would be hard to find! So invite your friends and pack food, drinks and tableware – let's raise our glasses together to Helsinki!
The event is free of charge, but please remember to book a place at the table in advance. Registration starts on Wednesday 24 May. at 12 on illallinentaivaanalla.fi.
You can book a place for a group of max. 6 people. Solo diners are also welcome! If you can't join, please cancel your registration and make room for other diners. A fine of 50 euros will be charged for an uncancelled dinner table. You can cancel the table place until 8 June following the instructions received with booking confirmation. If the dinner seats are fully booked, you should keep an eye for possible cancellation seats.
How can I reserve a table and for how many people? What if I cannot make it to the event?
You can reserve a seat for 1–6 persons. You will be given a table number, and you are free to choose any seat at the table. If you cannot make it to the event, please cancel your reservation in accordance with the instructions that accompany the confirmation of your reservation.
What is allowed and what is not? Can my picnic basket contain alcoholic beverages?Everyone will bring their own dinner, the choice of which is entirely up to you! You can also bring a reasonable amount of alcoholic beverages.
Can I bring children and/or pets?
Dinner under the sky is open to everyone. Pets and children may attend if accompanied by a guardian.
What if there is rain or wind?
Summer in Finland can be unpredictable, so we advise you to pack clothes and equipment that are appropriate for the weather. The event area is not covered.
Who organises the event?
The event is organised as part of Helsinki's birthday, Helsinki Day. Dinner under the sky is a joint production by Pluto Finland and Helsinki Events Foundation, the organisation responsible for major events in Helsinki.  Pluto Finland also organises other events in Helsinki, for example, Tour of Choirs and Art goes Kapakka. 
How is waste sorted at the event?
It is important to sort the waste generated by the picnic correctly. There are bins and
collection points on location, but please take your trash and glass bottles back home if necessary.
Let's keep Espa and Helsinki clean!

Photo: Lauri Rotko