We too! contemporary dance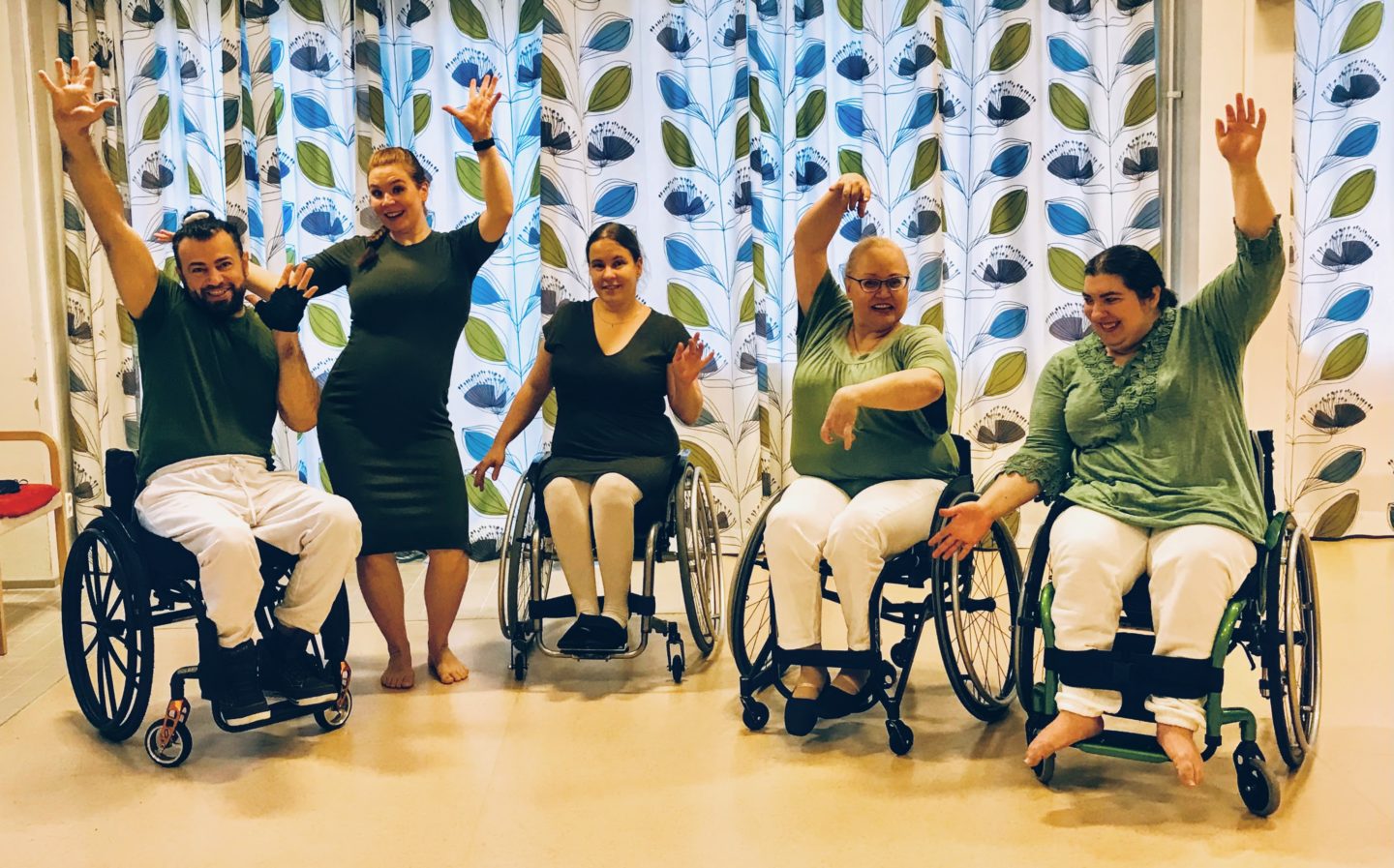 Event Introduction
The We too! contemporary dance piece has been realised by the Uusimaa wheelchair dancers association and its dancing members. The piece was inspired by the dancers' thoughts concerning equality and ecology. For us ecology is the ecology of everyday movement – in addition to caring for the environment.
When movement is challenging, you have to learn activity patterns that are best for you. It is important to save resources where you can so that you have the energy to do the things that you enjoy and that bring joy and content to your life.

People with disabilities have a lot to give, but too often they are overlooked in big decisions as well as in everyday issues. If, for all your life, you've been treated more like an object than a human being, like a cost and a problem – more than part of the solution – it is easy to start believing it yourself, too.
When you take care of yourself, you have resources to care for the environment as well. Dancing is good for this.

It is important for every human being to be accepted as they are. Once you are accepted as yourself, you can start using your gifts to help others. Admiration and love for yourself can begin from the outside, too.

We want to use this piece to make these feelings and needs visible. We use the medium of dance to show our frustration and constant battle to be accepted. We also show the resources and solutions that can be found when given space and acceptance.

The piece will be performed two times on Helsinki Day. The public performance is at 1:30 p.m. After the performance, there will be a discussion with the dancers concerning the themes of the work. The other performance is for the residents of the Kinapori senior centre. This is our way of making Helsinki Day accessible to those who live in the institution.

Choreographic idea and content: Birgitta Starast, Tiina Uimonen and Hanna Vilander
Choreography: Hanna Vilander and working group
Sound artist: Markku Essel
Dancers: Selda Demirtas, Aura Kaskisydän, Kadar Khristan, Birgitta Starast, Pasi Tohmo, Tiina Uimonen and Hanna Vilander
More information about accessibility at the event.
Categories
Event Information
Time:

Sun 12.6.2022 13:30–14:30

Organiser:

Uudenmaan pyörätuolitanssijat

Address:

Kinapori senior centre
Kinaporinkatu 7-9
00500 Helsinki

Accessibility:

The event is accessible with a wheelchair.

Indoor and outdoor facilities are accessible.

Event language:

Undefined

Links: