Families Together – the importance of family seen through the eyes of refugee children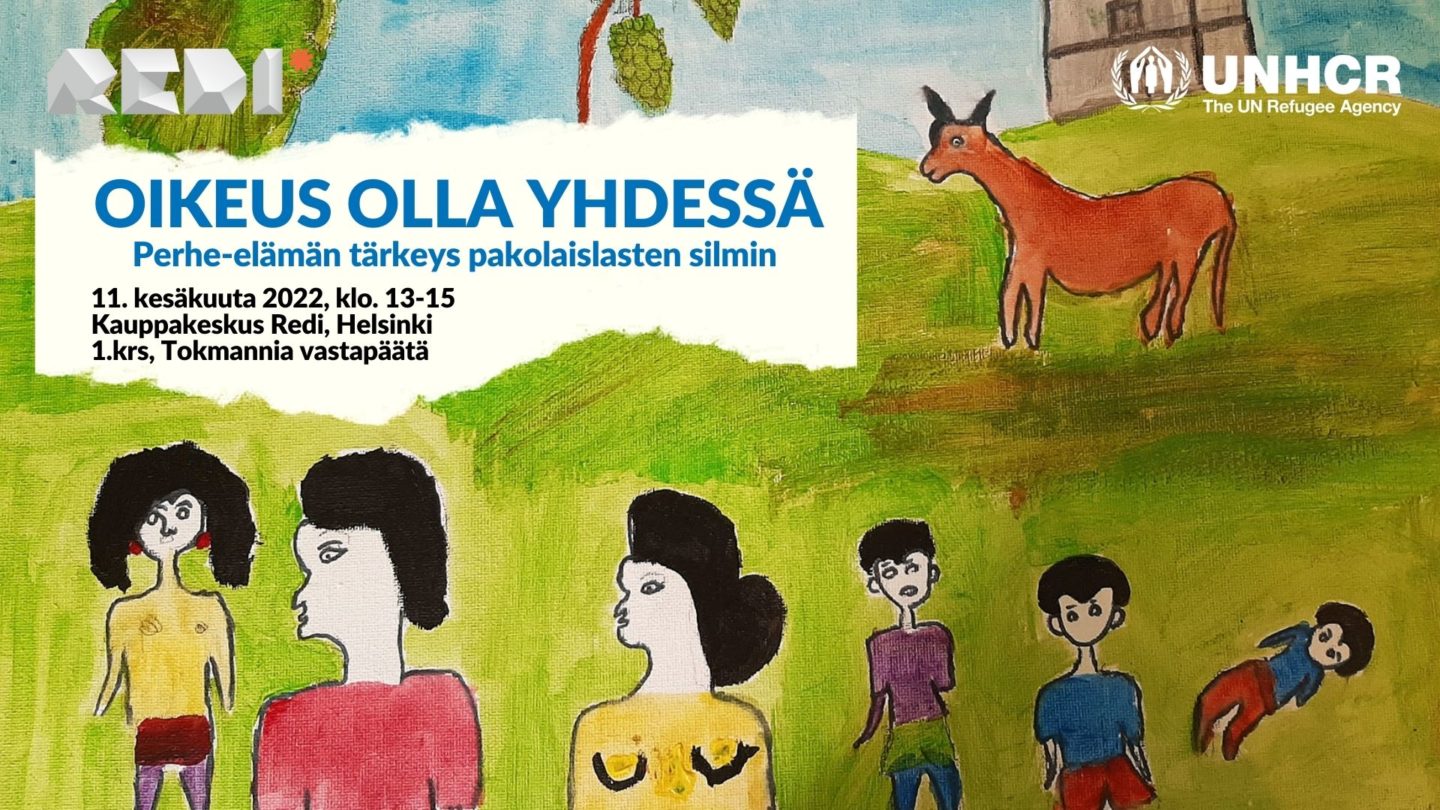 Event Introduction
Family is family. No matter who you are and where you are born.
But every day, war, conflict and persecution are forcing people from their homes – and tearing families apart.
Today, more than 100 million people are forcibly displaced across the world, and almost half of them are children. This means that many refugee children grow up in uncertainty, separated from their loved ones and deprived the security of family. Maybe for years.
UNHCR's Representation for the Nordic and Baltic countries is now launching an art exhibition with children's drawings in the Finnish capital Helsinki. The objective is to create awareness about this global challenge, to emphasize the universal importance of family – as seen through the eyes of children – and to highlight how family reunification can help families reunite.
The exhibition is created in close cooperation with the Redi Shopping Center, who has generously agreed to host it, and it will run from 13 – 30 June. However it will be exceptionally open also on Helsinki Day 11.6. from 13 to 15, displaying numerous drawings about family and family life – created by refugee children hosted in Bangladesh, Ethiopia, Libya, Mozambique and Romania.
The exhibition is open also on World Refugee Day, marked globally every year on 20 June – a day to celebrate and highlight the strength and resilience of the world's forcibly displaced people.
UNHCR invites everybody to join us at the exhibition to take a look at the colorful, imaginative and powerful drawings from the children, transcending nationalities and backgrounds to underline the love and dependency of family, shared by all children.
Categories
Event Information
Time:

Sat 11.6.2022 13:00–15:00

Organiser:

YK:n pakolaisjärjestö, UNHCR:n Pohjois- ja Baltian maiden edustusto

Accessibility:

The event is accessible with a wheelchair.

Event language:

Finnish, English

Links: