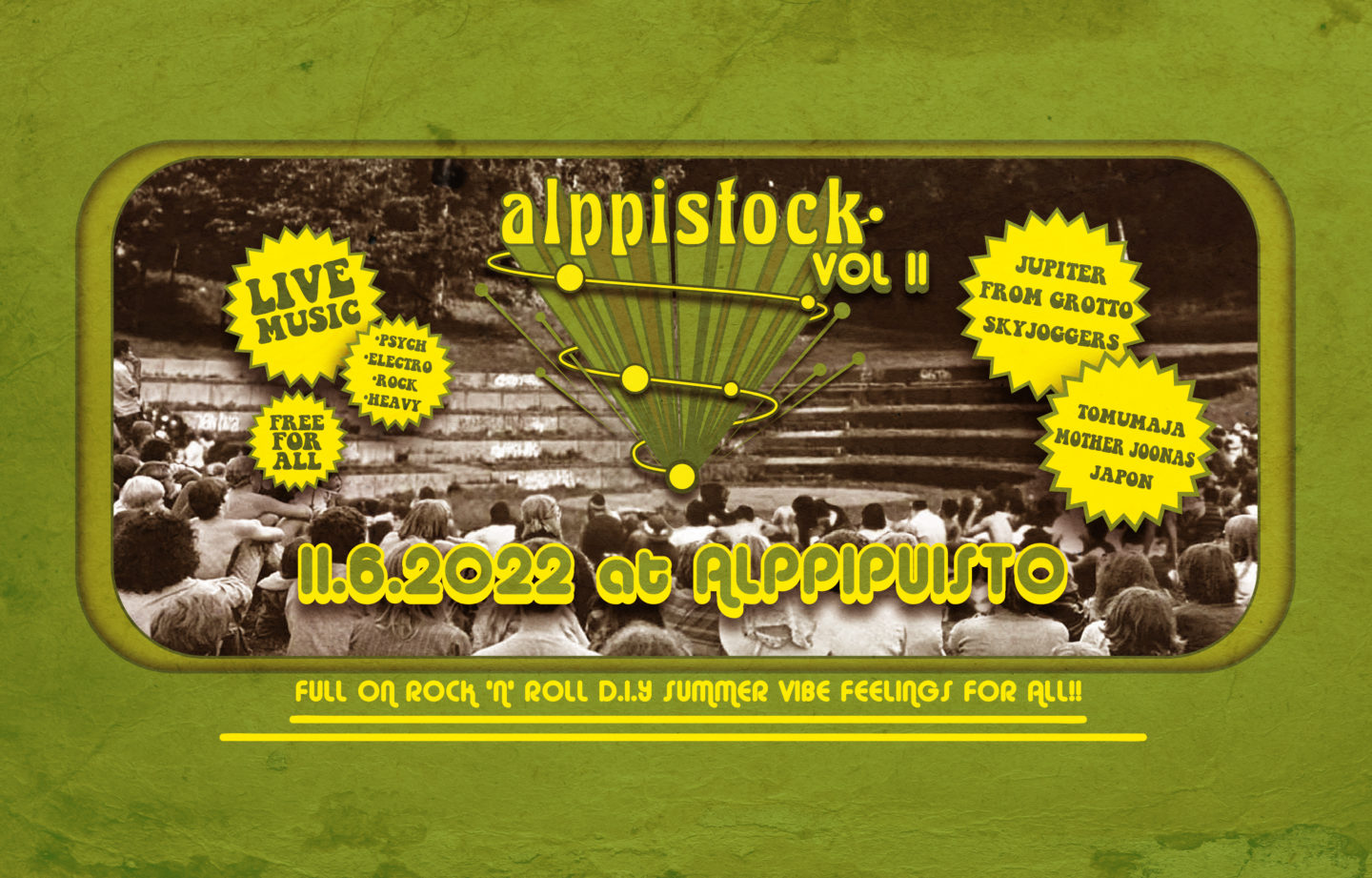 Event Introduction
Alppistock returns! In Helsinki's Alppipuisto park, the flowers blossom, the birds sing and the music rings like in White Lake in 1969. We will also stop in Pompeii on the way. Alppistock brings six psychedelic music ambassadors to blow our bodies and minds onto the astral plane!
Come and bring your friends to have a lovely day with quality music on Saturday between 3 p.m. and 10 p.m.
We want to offer our fellow human beings a free, pleasant, low-threshold event where up-and-coming marginal music bands get to play out their gospel.
Weather permitting. Throw your trash in the bin. Behave yourself. Let's take care of ourselves and others. Let's respect the mental and physical peace of those around us.
Performers:
Mother Joonas
Improvised soundscapes with tiny machines.
Japon
Japon plays improvised music with the different tones of electronic rock as their palette: kraut, space and psychedelia.
From Grotto
Psycherock trio From Grotto plays songs from their new, yet unreleased album. Take a summer trip from the source to another dimension!
"really aprreciate the drummer going apeshit on every track" – YouTube comment
Skyjoggers (TRE)
Skyjoggers is a modern day space rock band from Tampere.
Tomumaja (JKL)
Love songs for Earth from Finland with Saudade
Jupiter
Churchmoorean heavy psych rock since 2010
Alppila All Stars
Categories
Event Information
Time:

Sat 11.6.2022 15:00–22:00

Organiser:

Alppistock Collective

Address:

Alppipuisto park
Viipurinkatu
00510 Helsinki

Accessibility:

The event is accessible with a wheelchair.

Event language:

Undefined

Links: