Walk through Helsinki's history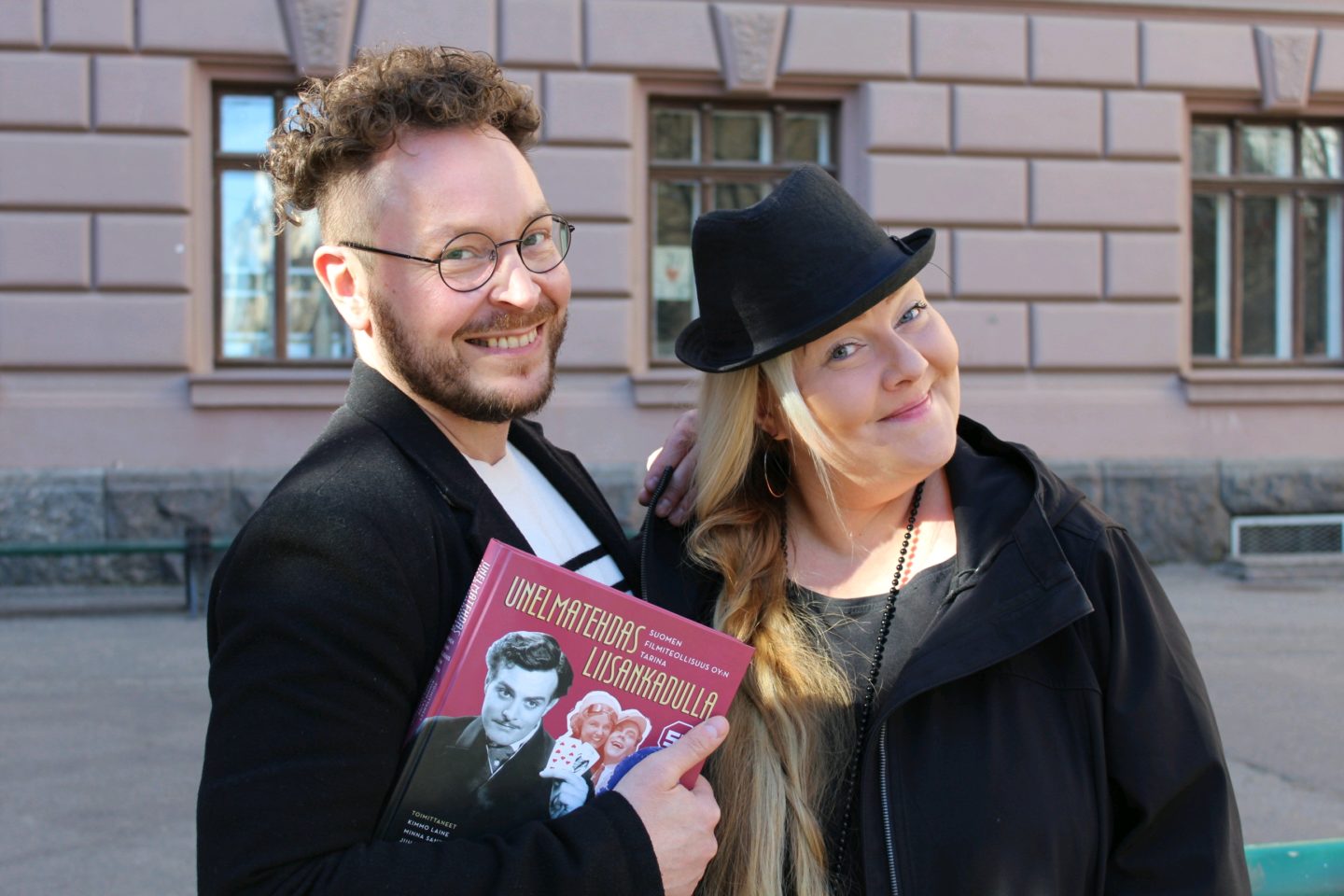 Having charmed audiences in Kallio in previous years, the dramatic walking tour inspired by the living history and real people of the city district now takes place in the streets of Kruununhaka and the golden age of the Suomi-Filmi film company.
At the heart of Kruununhaka, halfway up Liisankatu, there is a street-level building entryway that once served as the entrance to Helsinki's own Hollywood. The now dismantled studio facilities of Suomen Filmiteollisuus also housed the studio of the Finnish broadcasting company Yleisradio at one time. President Mauno Koivisto is said to have played volleyball in the arena that was built inside the old studio building.
On Helsinki Day, there will be an open walking tour on the streets of Kruununhaka, bringing the rich and vibrant history of the area to life under the guidance of Theatre Director Sanna Paula Mäkelä and Choreographer Kimmo Alakunnas.
Both originally from Northern Finland, the two met one another when studying in Helsinki. Over the years, the duo has truly become familiar with the streets of the capital. This is already their fourth Helsinki Day walking tour that uses drama to highlight the local history of the city.
"Our collaboration with Helsinki Day began with the dramatic walking tours in the streets of Kallio. The tours grew more popular every year and, at best, attracted hundreds of curious participants", Mäkelä explains. "This time we decided to move the tour to a new exciting area, Kruununhaka", she continues. Mäkelä and Alakunnas write and lead the tours, which include a host of extras and performers as well as the touring audience. Even random passers-by are encouraged to join the entertaining and informative journey into the history of the area.

The events, people and stories that are dramatised during the tour come not only from history books but also from local residents. Kruununhaka has been home to several artists, authors, actors, composers and politicians, but Mäkelä and Alakunnas are interested in the tales, lives and fates of ordinary people as well: tacitknowledge and person-driven local history.
"The tour themes are film stars and the golden age of Suomi-Filmi, but plenty of other things are included as well. Video projections on the walls of building add depth and dazzle to the performance", Mäkelä says.

Communal Helsinki
Once upon a time in the streets of Kruununhaka is one of the Helsinki Day productions that have received event funding granted by the City of Helsinki. "The open event call for Helsinki Day challenges artists and groups to bring their own events to the people, for example, by taking theatrical performances from the stage to the streets and parks. Helsinki Day provides a unique opportunity to try out the craziest ideas and reach new audiences. You should remember that anything well planned is half done!" Kimmo Alakunnas remarks.
What makes creators participate in Helsinki Day time and time again? "We are inspired by the desire to make artistically ambitious performances that draw on history as well as to liven up local street culture and activate residents to participate and share their own stories with one another. Communality is very important to us", Alakunnas and Mäkelä explain. "The open and surprising space also challenges and liberates us as creators in a completely unique way", Mäkelä summarises.

– Saija Holm

Info
Once upon a time in the streets of Kruununhaka walking tour on 12 June 5–6 p.m. We start from Liisankatu, the yard of Sibelius-lukio. We walk along Mariankatu to the corner of Vironkatu, where Teatteri Jurkka, Finland's smallest one-room theatre, participates in the performance. The tour continues along Rauhankatu and Meritullinkatu, coming to an end at Liisanpuistikko park. Along the way, we take a look at the local vintage shops and exchange a few words with Tauno Palo and Ansa Ikonen, Valentin Vaala, Edvin Laine and, of course, Emmi Jurkka.

In the picture: Director Sanna Paula Mäkelä and choreographer Kimmo Alakunnas
Pic: Stiina Viitajylhä