​​Punk and drag on the Espa Stage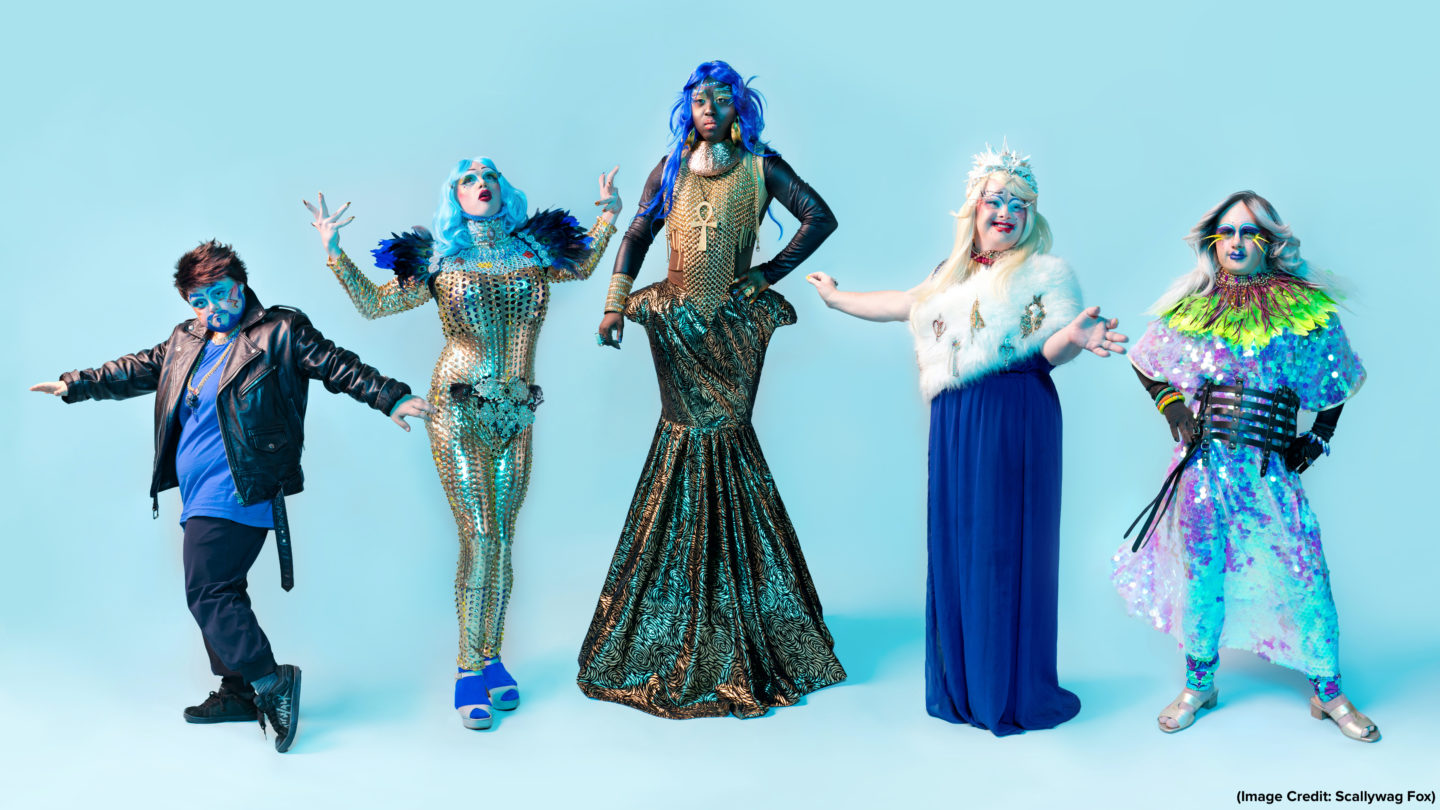 As Helsinki Day turns into evening, drag troupe Drag Syndrome will take to the Espa Stage as punk group Pertti Kurikan nimipäivät resounds in the background. Accompanied by unique store Pertin Valinta, a motley crew of cultural and outsider artists will take over the Espa Stage.
The Eurovision Song Contest in spring 2015 triggered the steady rise in the popularity of Pertti Kurikan nimipäivät (PKN). At its most intense, things got really wild. "Key people with us helped us to cope with and withstand all the commotion. And we had it all really easy since we faced no negative attitudes," recalls Sami Helle, the band's bassist.
"The music side in general, and especially the punk scene, is very inclusive and tolerant," chimes in Teuvo Merkkiniemi, who served as the band's manager. "The uniqueness of the guys also protected them from the worst in the crazy years of the band's popularity," he adds.
PKN disbanded in 2016 at the peak of its popularity. The band members began to consider their next move. They came up with the idea of a brick and mortar store. Pertin Valinta is open in Hakaniemi, near the market. Merkkiniemi is the firm's MD, Helle discovered a new side to himself as a storekeeper.
Pertin Valinta aims to promote non-discrimination and the influence of various marginalised groups as builders of their own life story and members of society. Activities are based on a desire to help special groups and outsider artists. Besides selling shirts, postcards, books and artworks, Pertin Valinta engages in comprehensive agent and manager activities as well as events production. "Music and literature are sparred with various mentoring programmes, but we've also a growing number of visual artists such as Satu Nekala and of course Kalevi Helvetti on-board," Merkkiniemi says.
The proceeds from the store and events go to support the employment of special groups. "Outsider artworks are particularly interesting because of their social impact but the artists need help to highlight their works and operate in the field of art," is how Merkkiniemi opens the business idea.
Special groups in the limelight
British drag troupe Drag Syndrome is the world's first where all the artists have Down Syndrome. Drag Syndrome should have appeared in the Outsider Art Festival last autumn, but the corona pandemic put paid to those plans. The troupe will take to the stage on a light, Helsinki summer evening accompanied by the Finnish punk-rock band Pertti Kurikan nimipäivät.
"I'm really looking forward to the Drag Syndrome show! They have the same drive and energy as our band. None of us has yet seen them live and so I'm excited about what's to come," Helle glows.
Pertin Valinta has been given a free hand to create the programme on the Espa Stage. The line-up ranges from Hassut tassut, a band playing children's music, to Sepi Kumpulainen, a top artist in his genre, and the reggae beats of Emjoy Reggae Band. Drag Syndrome will be on stage as top of the bill at seven in the evening. "Drag troupes normal perform in indoor venues and in the twilight so it'll be interesting to see how things work out on an outdoor stage on a light summer's evening," Merkkiniemi smiles.
Helle, forever young and open-minded, was also on the jury responsible for choosing the Helsinki Day programme. "I like doing things, especially to benefit my own store so that things move forward. I also wanted Helsinki Day to be the kind of place where everyone can feature their own culture. I hope this would be a permanent place for my own art and work to feature every year," Helle says.
Merkkiniemi agrees: "Our non-discrimination work is more than skin deep. Getting and international drag troupe to come to Helsinki is a real feat and it was great to get the City of Helsinki on-board. A major performer will give our work new dimensions, opportunities and visibility," Merkkiniemi approves.
Text: Saija Holm
Image: Scallywag Fox