On Helsinki Day people will dine together and enjoy gigs in city districts across Helsinki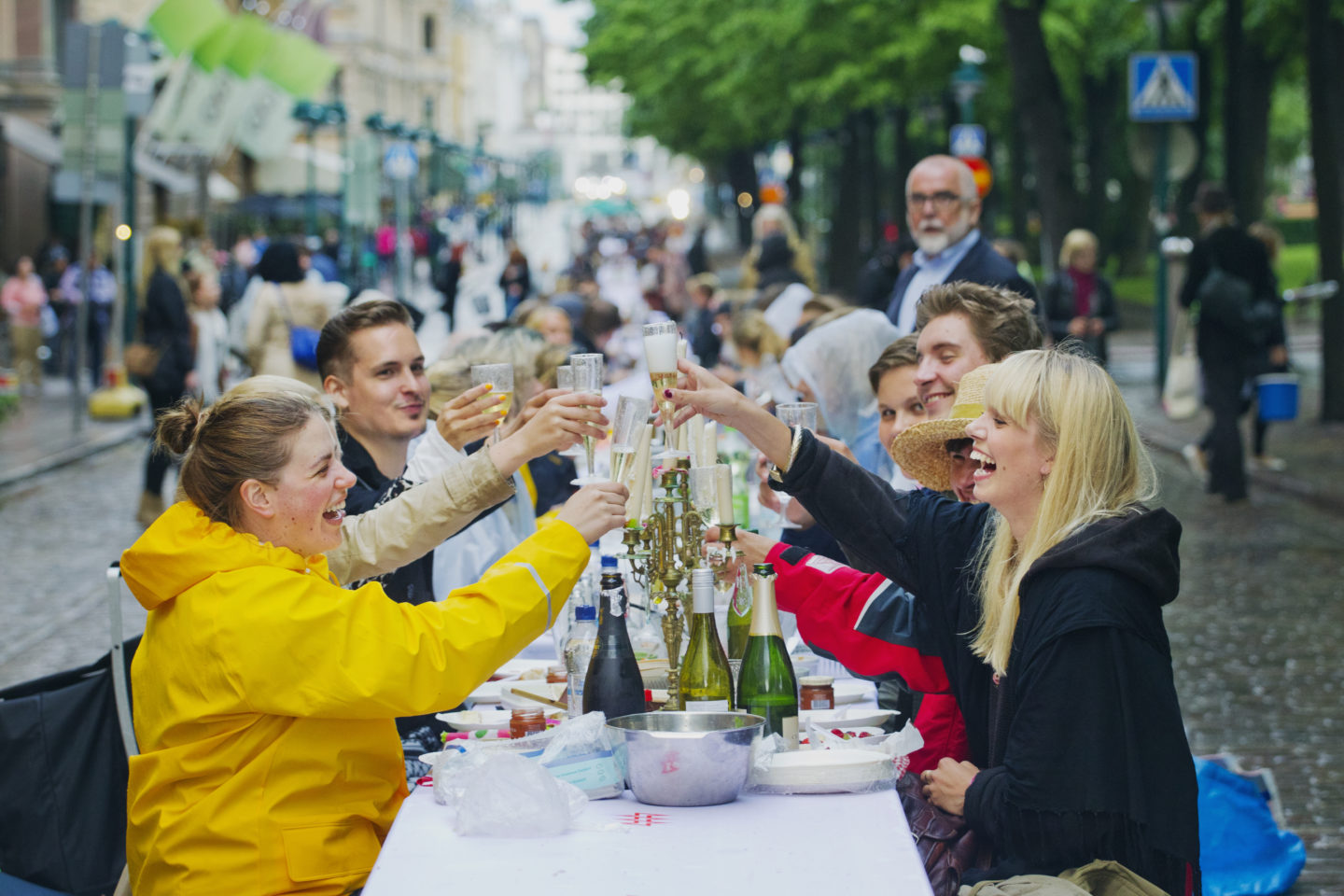 Helsinki Day celebrations will be spread over the weekend of 11-12 June. On Saturday, the tables will be laid for Dinner under sky and on Sunday the yards of cultural centres will resound with the vibes of city district gigs. The Espa Stage will be taken over by a diverse helping of outsider art. Also on the agenda are morning coffees at the City Hall, with awards of medals, prizes and accolades.
More than a hundred free events ranging from children's art workshops and archipelago trips to urban farming across the city will mark Helsinki's birthday. The Helsinki Day programme was created through open event application, together with citizens and various city actors.
On Saturday 11 June, Dinner under the sky invites people to get together around communal tables in the streets of Helsinki. Held for the first time on Helsinki Day in 2013 and soon fully booked, Dinner under the sky will fill Pohjois-Esplanadi, which will be closed to traffic for the evening.
On Sunday 12 June, Hear Helsinki! city district gigs will take over neighbourhoods from the inner city to the east and north. The line-up features music from jazz to rock and rap as well as programmes for the whole family in the yards of Annantalo Arts Centre, Kustaankartano centre for seniors, Malmitalo, Maunula-talo, Stoa and Vuotalo cultural centres, not forgetting the Kontula shopping centre fest. Mikael Gabriel, who grew up on Malmi, will perform at Malmitalo cultural centre and Seksikäs-Suklaa and Dosdela, who have lived in various parts of eastern Helsinki, will appear at Vuotalo cultural centre.
Sunday will see the Espa Stage taken over by a diverse crowd of cultural and outsider art personalities. The event includes an inclusive feast of music and performances in the OAF Stage programme curated by Pertin Valinta, which organises the Outsider Art Festival in August. The icing on the cake will be Drag Syndrome troupe from the UK.
City Hall will set the scene for morning coffee and the award of a whole bunch of accolades
The weekend will also include Helsinki Day traditions. Sunday will start with morning coffee and traditional rhubarb pie hosted by Helsinki mayor Juhana Vartiainen at the City Hall, where there will also be poems about Helsinki read by poet Harri Hertell.
"Helsinki Day is definitely one of the highlights of the year. This year, Helsinki Day feels especially good since we can go ahead and celebrate our city's birthday without any special arrangements after two years of coronavirus. The invitation to celebrate is open to all and I hope that everyone will find a great way to celebrate our common home city," Mayor Vartiainen says.
Juhana Vartiainen and deputy mayors Anni Sinnemäki, Paavo Arhinmäki, Nasima Razmyar and Daniel Sazonov will award golden Helsinki medals to ten deserving citizens. In addition, science, sports and cultural prizes will be awarded and recognitions to Helsinki artists and research grant recipients. This is also the day when the Helsinki Day baby is remembered and Stadin Kundi and Friidu are named.
See the entire Helsinki Day programme at helsinkipaiva.fi.